Personalised Leather Dog Collars are what I'm looking for, for my dog Rudi  I'm also looking at Hand Made Leather Dog Collars
I was thinking that though fine leather dog collars are not cheap they are heavy duty, they will last a long time. When well made they wont crack and split like the imitation collars do so often, as you would know.
I want a personalised Leather Dog Collar because I can have the important contact details printed if Rudi should become lost. Right on the buckle no jingling away becoming scratched until our contact details are no longer readable.
I do like the jingling because I can hear Rudi when he is in the garden at night. I fear he may get out as it happened in the early days when my fence partly blew down on a stormy night. So I will buy something jingly to add to his new collar.
Personalised Leather Dog Collars
I do a lot of research when I am looking for products to display on my Blog Posts. I always check the store is credible and safe to shop and I always read each products reviews first. Having said that I was blown away with the first display shown below here a large dog leather collar.
Looking for custom leather dog collars Leashes Read Here
Exactly what we are looking for in a personalised Leather dog collar all handmade including the ID Tag. You can tell by the shop owners description that he is a dog lover and 265 personal reviews will verify that. He also sells leather Cat Collars and apart from Leather Dog Collars Leashes as well.
&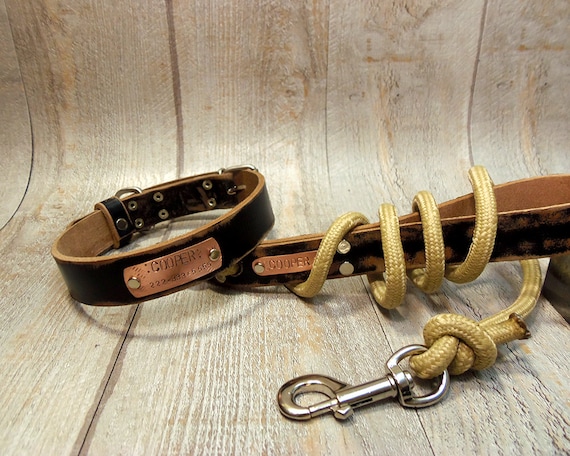 Leather Dog Collars Leashes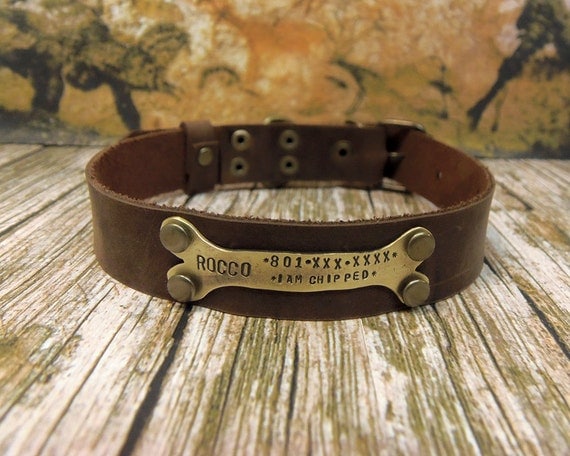 Small Dog Leather Collars

&
---
Leather Dog Collars Made USA
When I affiliate for Etsy (at no extra cost to you) shops are world wide products are hand made. Some of my customers have asked if I can separate products into countries so I am trying that today.
These next Personalised Leather Dog Collars are just beautiful and the  first pictured are available in 30 different colours and 6 different font styles. Your dogs name and contact details are engraved directly onto the buckle.The two leather dog collars following one is tooled leather and the other is Latigo Leather.
&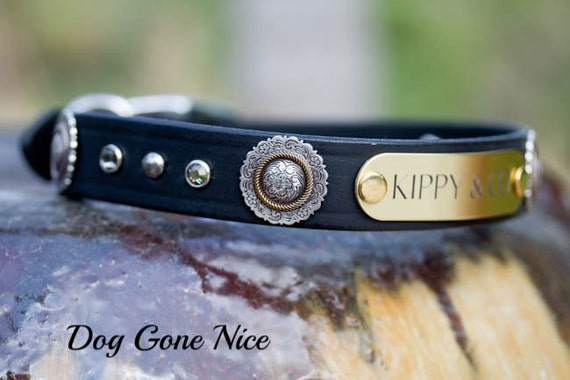 Latigo Leather Collar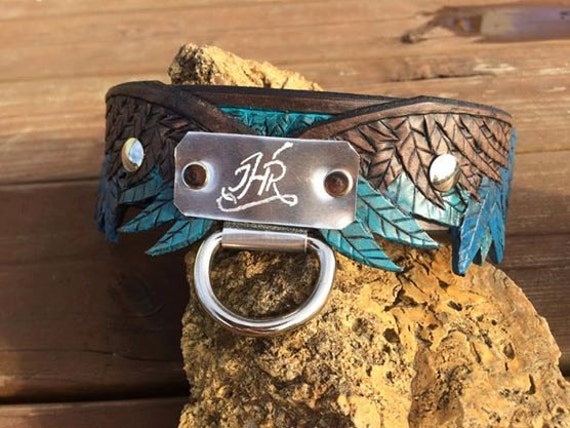 Hand Tooled Dog Collar

&
---
Handmade Leather Dog Collars UK
While I choose a few products for each section you will find lots more available.
The first photograph below shows a Bespoke Leather Dog Collar sourced in the UK this leather is hand cut. It is full-grain vegetable tanned leather which is hand tooled, the owner makes other awesome leather products.
In honesty The Bespoke Leather Dog Collars was the only store I could find in the United Kingdom that had handmade personalised leather dog collars. So I chose the two other collars you see.
&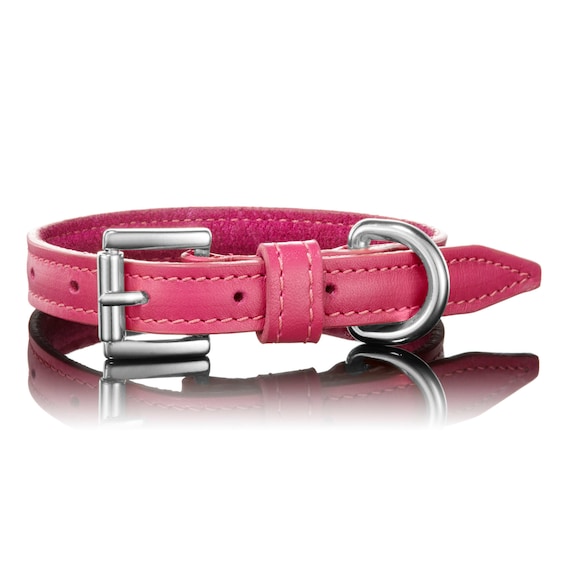 Pink Leather Dog Collars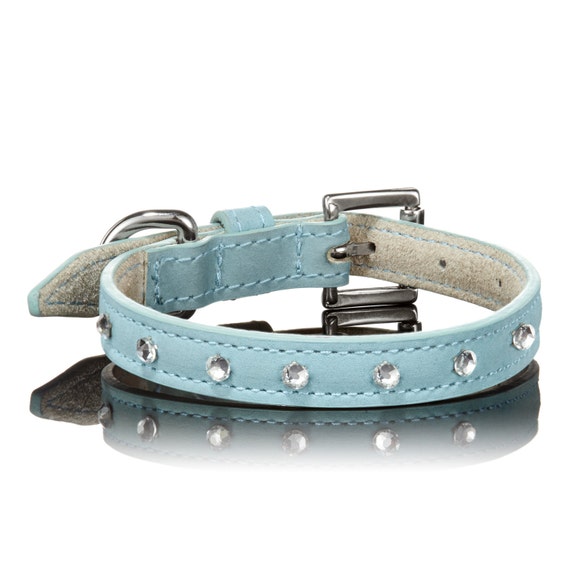 Swarovski Crystal Dog Collars

&
---
Personalised Leather Dog Collars Australia
I have to say I fell in love with and was not even looking for Bow Tie Collars for dogs. Featured below this is an absolutely gorgeous leather dog collar and comes monogrammed with your dogs initial as well as you pick out a very cute charm . 
&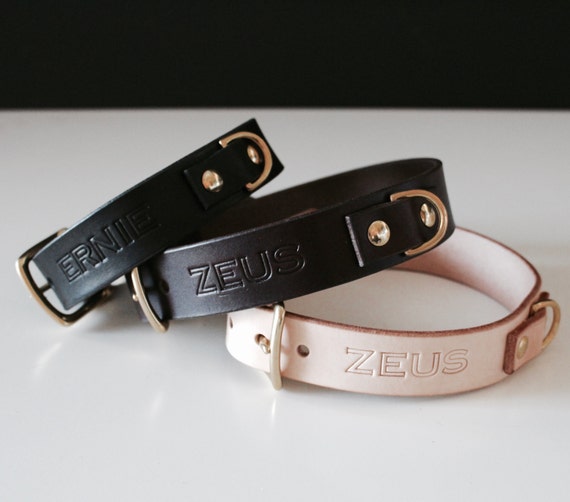 Personalised Customised Dog Collar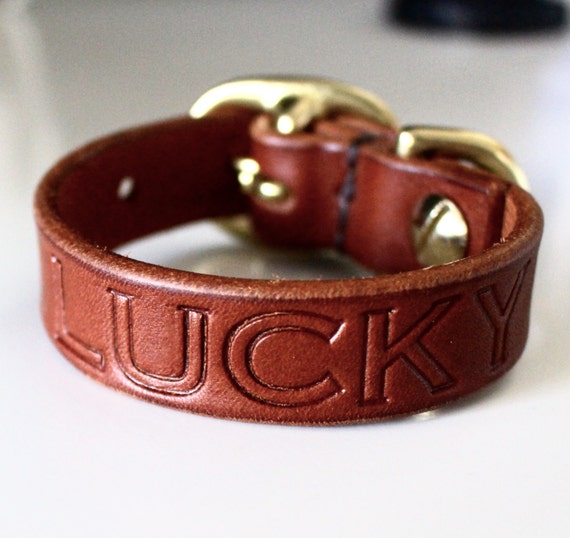 Hand Made In Australia

&
Amazon Leather Dog Collars
For shoppers who prefer to shop with Amazon
Amazon have lots of designs and styles of dog collars for you to choose from and you may snag one on Sale
In a hurry quick link to Amazon Leather Dog Collars
&